Offering riding opportunities to disabled people in
Oxfordshire and beyond.

September 8th 2018
Fun Day

- very many thanks to everyone who worked
so hard to make this a wonderful day to remember
(especially Rachel and Donald).
There were so many achievements - Freya had her
first canter, not exactly planned, but wow, didn't she
do well! Lots of rosettes were worn with pride.
You all did brilliantly!
A big thank you to the BBQ & food team for a
delicious spread.


Summer holidays 2018 - Pony for the Day
Many thanks to all coaches and volunteers who organised 4
wonderful sessions of Pony for the Day.
Much fun was had by all and there were some excellent ideas
including making pony treats and understanding your pony's
expressions. Some good leading techniques kept them all.
There was some good riding and fun gymkhana games.
A lovely sunny day and we are out for a
ride!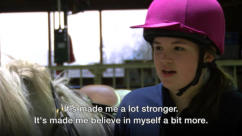 BBC South Today
7 September at 18:08 ·
The horses that are
changing lives, but they
can't be ridden indoors in
winter because the arena is
too small. See the video on
our Facebook page.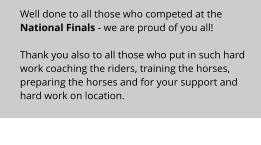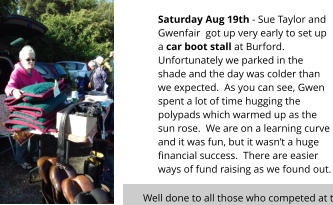 Jan 14th 2018 - Ann Barlows'
80th birthday surprise party.
How we kept it a secret, we'll
never know but Ann thought
that she was off to a food
fair with her daughters and
looked what happened!
We had a super party to
thank Ann for all that she
has done for the group and
to wish her a big Happy
Birthday.
14th April 2018
A Black Tie Dinner and Dance was held at
Kingston House.
This was a super evening with a very
enjoyable meal and we raised an impressive
> £13,000 towards our new indoor school.
Many thanks to the organisers and our
hosts.
Plant Sale and Mini Fete
May 12th 2018
Thank you to everyone who supported
this event. At the last count, we raised
£740 with more to come.
A huge thank you to Sarah Wilkinson
who collected, grew etc. all the plants
and to all those who baked cakes and
donated items for the tables, and
helped out. Thanks also to all those
who attended and parted with their
money. Whoever arranged the weather
did extremely well!
May 20th 2018 Southern Region Qualifier
An amazing 11 riders qualified for National
finals. Well done to everyone who rode, to all
the volunteers, staff and coaches who put in
many additional hours to make this day such
an enjoyable success.
Check into our Facebook page to see many
photos. Good luck for the National Finals in
July!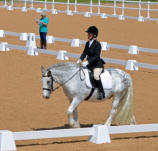 July 11th 2018
The Wednesday group arranged the weather again for yet
another fabulous picnic ride. After an extra long ride, we
were rewarded with our usual amazing spread. We have to
congratulate the children for their patience whilst the adults
kept coming back for seconds and thirds!
I think that this was the best behaved group of children that
we have ever shared our picnic with.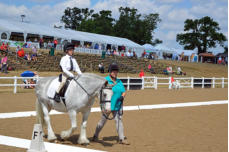 14-15th July 18 National Finals
Huge congratulations to all our riders
who rode so well and achieved so
much. Credit must also go to the
instructors, staff and volunteers who
give up so much of their time.
We mustn't forget to give credit to our
wonderful ponies who keep on giving
their best.

March 29th 2019 Volunteer
and staff supper.
Another great night! Many thanks to Sharon
and her team for some wonderful food and
entertainment. Sharon even catered a choice
of menu and gluten free alternatives.
It was a great social occasion with a fun quiz
and a hilarious party game
(with a bonus of
raising £350)
.
We took the opportunity to thank Sandie and
Wendy for their help/services over the years
and we wish them both a happy, long
retirement.
Plant Sale May 11th 2019.
Many thanks to all involved
(especially Sarah Wilkinson
who organised all the plants).
This was a huge success -
there were so many lovely
plants and the event was very
well supported.
With the plant sale, tombola
and refreshments, we raised
nearly £1000 on the day.
19th June 2019 C

ongratulations to all our riders who took part in the Southern Region Qualifiers
at Wellington Riding. You did so well even though some of our ponies decided to test their riders.
It was a new occasion for a couple of our ponies and a judge's box and mirrors can be a scary
things. However our riders managed to reassure their mounts and they all rode brilliantly!
Very many thanks to all the team who worked so hard to get our horses there in good time ,and
they were so well-turned out as well. It was a long day for you all and much appreciated.
Add Amazon Smile for
our group funds.
14th July 2019
A massive well-done to the riders who
competed at the National finals. You all did
so well and achieved so much. Thank you to
all the volunteers and staff who worked so
hard to make us proud.
June 2019 - yet another wonderful day for the Wednesday morning ride with Kingfisher
children. We had a wonderful picnic which was much enjoyed by everyone - including Kate's
dog Kizzy, who did the hovering up. Hats off to those children who were so well-behaved!